Information about the effects of ...
Information about the effects of the corona pandemic at Don Bosco Aschau am Inn
Veröffentlicht am: 19. March 2020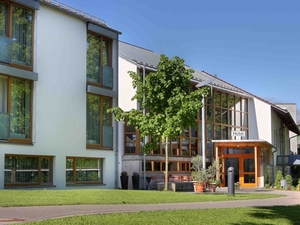 Don Bosco Aschau am Inn is temporarily closed!
Aufgrund behördlicher Anweisung zum Umgang mit der Corona-Epidemie schließt Don Bosco Aschau am Inn bis zum 19. April 2020 das Berufsbildungswerk und das Jugendwerk Mettenheim inkl. Internat und Berufsschule an den Standorten Aschau am Inn und Mettenheim.
Die Teilnehmenden, die aktuell nicht ins häusliche Umfeld zurückkehren können, werden selbstverständlich weiterhin in Absprache mit den zuständigen Behörden in unserer Einrichtung betreut und versorgt.
Unser Don Bosco Supermarkt in Aschau am Inn ist weiterhin geöffnet, ebenso das Hotel, jedoch nur für Geschäftskunden und nicht für Urlaubsreisende. Das Hotel ist nur sporadisch besetzt. Bitte richten Sie Ihre Anfragen an hotel@donbosco-aschau.de.
Das Hallenbad wurde bereits geschlossen und bleibt für dieses Schuljahr geschlossen.
Aktuell ist uns kein konkreter Corona-Fall in unserer Einrichtung bekannt. Die Schließung erfolgt vorsorglich zum Schutz unserer Teilnehmenden, unserer Mitarbeitenden und deren Familien.
Sollte die Staatsregierung die Schließung ausweiten, werden wir Sie erneut informieren und die weiteren Maßnahmen auf unserer Homepage veröffentlichen.
Für Rückfragen stehe ich Ihnen jederzeit gern zur Verfügung.
Stand: 17.03.2020, 17:30 Uhr
Peter Konietzko
Gesamtleiter